[ad_1]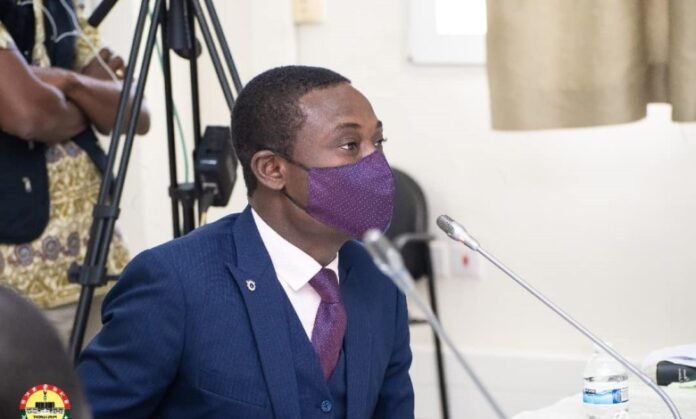 Parliament has unanimously approved the nomination of Kissi Kissi Agyebeng as Special Prosecutor.
The President will have to swear him in order to enable him begin work as Ghana's 2nd Special Prosecutor following the resignation of Martin Amidu.
On July 22, Mr Agyebeng received unanimous approval from the Appointments Committee of Parliament following his almost 5-hour vetting.
"We [will] put our recommendation [forward] for the House to determine whether to approve or disapprove of our recommendation. As to how other people view his [Kissi Agyebeng's] answers, I'd rather leave it to them and stay within the rules to make recommendations to the House.
"The committee unanimously agreed to recommend him [Kissi Agyebeng] to the House for approval," Chairman of the Committee Joe Osei Owusu said during the submission of his report to the House on the nominee.
Mr. Agyebeng is a private legal practitioner with nearly 19 years standing at the Ghanaian bar. He is also a law lecturer.
Highlight of vetting
I can't stop corruption – Agyebeng
Special Prosecutor-nominee Kissi Agyabeng says he cannot stop corruption but will make it a costly venture.
He told the appointments committee at his ongoing vetting that not even God can stop corruption.
"Hon. Chair there was a reference to heavy shoes of a named individual. Hon. Chair I'll like to state that I will prefer to wear my own shoes in the sense that I am my own man and I'm coming with my own experiences and professional training.
He went on "in this quest, my conscience and knowledge of the law are going to be my guide. My strategy is that Hon. Chair I'm not naive to assume that I'm coming to stop corruption."
"There's no way I can stop corruption. God Himself will not even acclaim to that. But I'm going to make corruption very costly, very very costly to engage in'" he stated.
Kissi Agyabeng, a criminal law lecturer, and a practitioner will replace Martin Amidu as the second Special Prosecutor Ghana has had.
Mr Amidu resigned from office last year accusing President Akufo-Addo of interference following his work on the controversial Agyapa Royalties deal.
I'm no surrogate
The Special Prosecutor-nominee Kissi Agyebeng has cleared the air on his perceived involvement in the controversial Agyapa deal, saying he was not in any form involved in the transaction.
According to Mr Agyebeng, anybody trying to implicate him in the Agyapa deal was coming from uninformed positions.
Appearing before the Appointments committee of parliament Thursday, July 2, he said, "of whoever says am a surrogate of a law firm or implicate me into the Agyapa transaction clearly does not know me because if you know me you wouldn't make such allegations. So all these that came I took it as coming from uninformed positions."
"I was not involved in the Agyapa transactions in any form or manner. I am no one's surrogate. I am my own man," he told the committee.
Mr Agyebeng was nominated by President Akufo-Addo following the resignation of the Special Prosecutor, Mr Martin A.B.K. Amidu on November 15, 2020.
When approved by Parliament, Mr Agyebeng will replace Mr Martin Amidu and be the second Special Prosecutor Ghana has had.
Source: Ghana/Starrfm.com.gh/103.5FM


[ad_2]