[ad_1]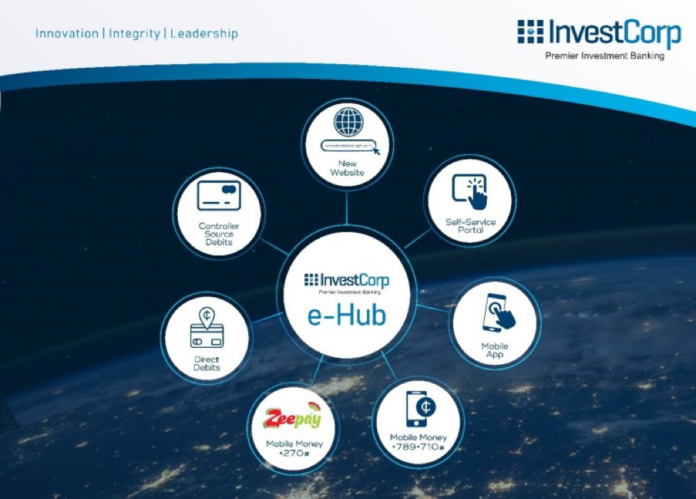 InvestCorp Asset Management Limited (InvestCorp), the premier investment banking and asset management firm, has out doored its new electronic services platform dubbed 'InvestCorp e-Hub' aimed at enabling clients interact with the company conveniently.
Key features of the InvestCorp e-Hub include an upgraded website to keep stakeholders abreast with relevant investment and firm information; a new online self-service portal to allow clients to gain remote access to their accounts 24/7; a mobile application to enable smart phone users (android and iOS) gain real-time access to their accounts; mobile money USSD short codes (in partnership with Emergent & Zeepay) to allow clients without internet service to access their accounts; and Controller and Accountant General's Department (CAGD) source debits to enable public sector employees invest directly through their payroll accounts with the CAGD.
Through the InvestCorp e-Hub, clients will now be able to top-up their investment accounts, set up recurring investment debits, open accounts, access and amend key account information, request for redemptions, request official statements, monitor all their investments, and access relevant research material.
Commenting on the InvestCorp e-Hub, the Managing Director of InvestCorp, Henry Sunkwa-Mills, said his outfit is committed to prioritizing client convenience, hence, the launch of the platform.
"These additions to our services illustrate our commitment to providing a holistic all-in-one experience for our clients from onboarding to investment account management. We believe that these platforms will provide convenience, ensure consistency in investment and increase transparency.
Our seamless processes have consistently provided convenience to our clients and we aim to add more value to their finances by transforming the conventional way of investing through the use of Information Technology (IT) with interactive user interfaces. In light of this, today, I launch the InvestCorp e-Hub.
The InvestCorp e-Hub is an amalgamation of our various electronic investing platforms that will enable clients interact with the firm and conduct their transactions digitally on safe and secure platforms," he said.
Deputy Director General (Finance) of the Securities and Exchange Commission (SEC), Paul Ababio, commended InvestCorp Ltd for introducing an innovation that will promote financial inclusion and digitization.
"Overall, we encourage financial inclusion and part of our mandate of protecting investors is to ensure that investors are well educated. Part of the education is increasing the channels through which they can access information so a platform that allows investors to access information easily in terms of their investment balances, retrieving statements, and contacting the market operators are critical to the growth of the market.
Hence, we are excited and congratulate InvestCorp for this initiative. The interface is friendly to use, there is a web option, an app option and a USSD option, so a range of users can access it," he said.
Deputy Managing Director of InvestCorp, Mr. Kwabena Apeagyei, assured clients of continuous innovation that will churn out products and services to meet their changing needs.
He further stated that the InvestCorp e-Hub will expand the clientele base of the company by attracting Ghanaians in the diaspora who seek a financial base at home.
The InvestCorp mobile app is available on android from August 1, 2021 whereas, iOS users will be able to have access to the app in September 2021.


[ad_2]