The Ghana-Nigeria Jollof Wars competition 2021 tagged #JollofWarsSouthAfrica was held at Karibu Wote Restaurant in Rivonia, Sandton, a place in South Africa's largest city of Johannesburg. The Grand Prize winner was Florence Ansah of Ghana, she walked away with 8000 South African rands (R), the equivalent of about 560 US dollars.
Florence, who is based in Sunnyside, Pretoria became the winner of the first-ever Jollof Wars event in South Africa when she beat a field of four other chefs to win the grand-prize. In her own words, she said "I am grateful for participating in the competition and grateful to God for also being the winner and I thank the Ghana High Commission for allowing me to connect with the organizers."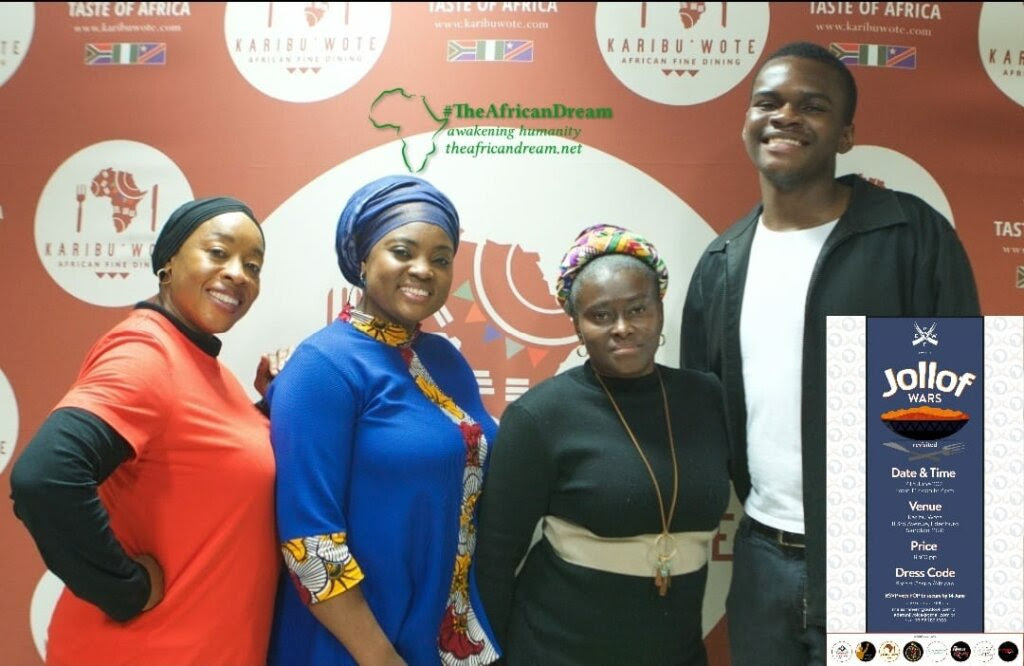 #JollofWarsSouthAfrica competing chefs pictured left to right are Jumoke Ojetimi of Nigeria, Phyllis Qua-enoo of Ghana, the winner Florence Ansah also of Ghana, and Nigeria's Jemie Ugwujide
Prize money for the chefs was sponsored by MTN South Africa, a mobile telecommunications company, with Afroruby South Africa also sponsoring a gift. Other prize winners included Phyllis Qua Enoo, also a Ghanaian who won the runner-up prize of R6500 ($455.79) with Nigeria's Jumoke Ojetimi coming in third place to win R5500 ($385.61).
Side attractions that spiced up the event
Runaway attraction in the mold of a young eighteen-year-old celebrity chef named Jemie Ugwujide whose dish came in fourth despite participating only for the fun of it won many hearts. Another activity that added to the excitement of this premier event was the poem presented by co-organizer Maleshane Makhale about South Africa's 'Youth Day' which coincidentally fell on the day of the program — June 16 — also a public holiday in South Africa.
2nd left is Elizabeth Anku — trade assistant from Trade Section of the Ghana High Commission in South Africa, 3rd left is Ambassador Hilda Hinidza-Ellun — Acting Ghana High Commissioner to South Africa, 2nd right is Phyllis Qua- Enoo — 1st runner-up, and extreme right is Adetunji Omotola — Co-Founder of African Solutions Express and #JollofWarsSouthAfrica Curator
Full marks go to David, of Democratic Republic of the Congo (Congo DR) who sang his country's national anthem with gusto and warmth, what made it peculiar was the fact that this was the only anthem sung in French. The South Africans in the room also harmonized their anthem which has multiple languages with great aplomb. The shortest anthem at the #JollofWarsSouthAfrica was the Nigerian anthem with its first stanza that ends with the words 'peace and unity' bellowed out loud by Nigerians in the hall of the event venue Karibu Wote, which by the way is owned by a Congo DR national.
For a second there, one could have mistaken this for a choral contest given all the singing that set the tone to electrify the venue. The event was graced by the presence of Madam Hilda Hinidza-Elluh, the Acting High Commissioner of Ghana to South Africa who was accompanied by the High Commission's Trade Assistant Elizabeth Anku.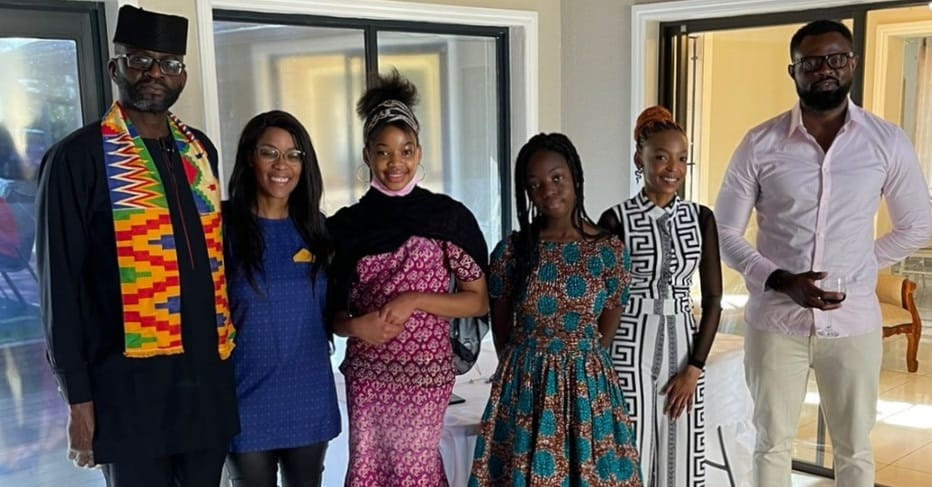 From left to right, Adetunji Omotola — Co-Founder African Solutions, Palesa Ryan — Jollof Wars Judge, Chloe Adesina — Judge understudy, Miss Qua-Enoo, Maleshane Makhale Co-Founder — African Solutions Express, and David — a guest from Congo
By home advantage, most of the guests were South Africans, yet a chunk of the attendees was also from the Congo DR. Nigerians and Ghanaians present were also resplendent in their traditional attires, adding color and fashion with the colors of their dresses and shoes blending in with the multi-lingual conversations and well-garnished mouth-watering Jollof and other food items. African diversity was on full blast and well-displayed that day…
The winner is picked, the battle is ended, but the culinary war continues
Congo DR Chef Demolu and Palesa Ryan, a South African banker, were the two judges at hand for the event. As the chefs presented their dishes for judging the event went ahead with the exhibition of books, wines, and beers. The judges spent quite some time before establishing the best dish as the competition was quite stiff, making it hard for them to quickly conclude on which of the Jollof tasted better since they were all good.
Besides Jollof rice, there was lunch also, which was provided by Karibu Wote. Lunch came in the form of pondu, tilapia and pap, other options were potatoes, rice and chicken with accompaniments. The various dishes were washed down by wines from Naked Bottles and some beers from the Tolokazi Range being exhibited as guests bought wines and beers that they had tasted earlier during the exhibition and networking session.
A well-garnished and well-presented Jollof by competing Nigeria chef Jumoke Ojetimi (inset bottom right corner) at the first ever Jollof Festival in South Africa
In the end, Ghana came in best with Sunnyside-based Pretoria resident Florence Ansah making history in South Africa as the winner. "The dishes were great, the atmosphere was euphoric and the attendance no doubt was encouraging for a first-time event," said Adetunji Omotola, the event Curator who went ahead to reveal to TheAfricanDream.net (event media partner) in a post-event interview that "planning is already afoot for the 2nd event. We are so thankful to everyone who played respective roles in making this success a reality. Contact us on Twitter and Instagram where we can be found as @jollofwars_sa to talk about how you can be a part of the next event."
Highlights from The Jollof Wars South Africa will be aired across Africa on Saturday, February 19, 2021, at 20.30hrs South African time, 19.30 hours Nigerian time, and 18.30 hours Ghanaian time on DSTV Channel 404. It is the first time in South Africa that Ghanaian chefs and Nigerian chefs have gone head-to-head in a big way with the Ghanaians showing up massively to claim almost 75% of the winnings at stake.
Congratulations to Ghana for winning this one, the battle is over, but the war continues, see you at the 2022 #JollofWarsSouthAfrica event, for now, kudos to Africans worldwide for showing their power of oneness through food, culture, fashion and diplomacy — Ubuntu!
Written by Oral Ofori