Achimota School has temporarily backtracked on its decision not to admit two Rastafarian students.
The School in a statement after the landmark ruling by an Accra High Court which was hailed by the majority of Ghanaians stated that it had instructed its lawyers to appeal the decision.
But the school's board in another statement on Wednesday, June 2, 2021, said after consultations with relevant stakeholders it had considered the interest of all parties. The statement, however, added that it was committed to an appeal against the ruling of the High Court.
"Further to our statement issued on 1st June 2021 on the subject of two Rastafarian applicants, we have been in consultation with other relevant stakeholders to seek the best ways forward, taking into account the interests of all parties.
"While the Board remains committed to the appeal against the High Court ruling, it will withdraw the application for a stay of execution pending the determination of the appeal by a higher court."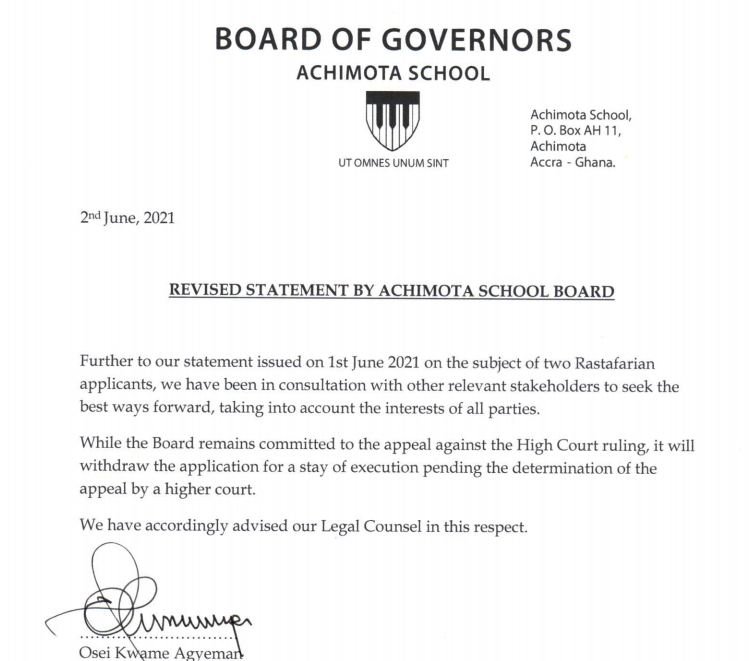 The impasse between the students and the school has been ongoing since March 19 during which the two students have not been able to start academic work with their colleagues.
Tyrone Marghuy and Oheneba Nkrabea were placed at the school through the Computerized School Selection and Placement System (CSSPS) having satisfied the entry requirement by creditably passing their Basic Education Certificate Examination (BECE).
Source: Ghana/Starrfm.com.gh